How the subscription works

Select Your Favorite Cookies
Sign up and either receive your favorite signature cookie or choose a different cookie each month.

Shipping Across the U.S.
Select how frequently you would like to receive our delicious cookies and we'll make sure they arrive for you to enjoy!

Customize Your Plan
Adjust your subscription each month to select different cookies, change the recipient or manage your account.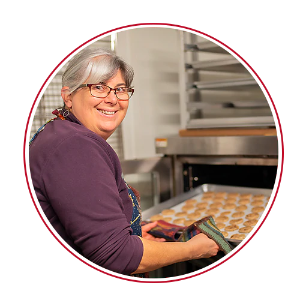 About Sweater Box Confections
Based in the Outer Banks, NC Sweater Box Confections is on mission to bring friends and families together to enjoy delicious baked goods made with love.
Select From Our Cookies Available
"The Magic Cookie Jar Subscription is a thoughtful and tasty way to stay in touch. We started a monthly subscription of these delicious treats for our parents during the pandemic lockdown when we weren't able to visit them in person. It was easy to change the cookie variety and enclosed message each month. Our parents really enjoy receiving a surprise in the mail each month and love all the different varieties!" 

Kristine
"We have used the Magic Cookie Jar Subscription Program for over 2 years now and love it! It's such a convenient way to send a high quality gift to family, friends or clients to recognize birthdays, anniversaries, get well wishes or plain old "just because you're sweet, we wanted to send you something sweet."

While we have our favorites, we can honestly say that we've never tried any product from SweaterBox and not thoroughly enjoyed it."

Jeffrey & Patricia
"I discovered Sweater Box Confection cookies in 2013 while vacationing on the Outer Banks. The large Oatmeal Cranberry Walnut cookies scored a 10/10 from our entire group and were the most delicious cookies I've tasted since childhood. I purchased a dozen to take home and over the years have gifted these to family and friends for numerous occasions and receive rave reviews for my gifts. These delicious cookies are the perfect gift; quality, taste, delivery, and the hands that prepare them never disappoint."

Gladys
Our line of Tea Cookies and Cheese Pennies have a best buy date on the bottom with 8-12 weeks from baking. Our traditional cookies are best consumed within 3-4 days of receiving. Placing your treats in the freezer will help them last an additional 3 months.
You can choose an ongoing subscription, which means cookies will always be a few weeks away! Or choose between 3, 6 or 12 months; these are great for gifts.
Shipping charges depend on your cart total.
$0 - $7.99 || Shipping is $5
$8.00 - $59.99 || Shipping is $8
$60.00 - $99.99 || Shipping is $12
$150 + || Shipping is Free