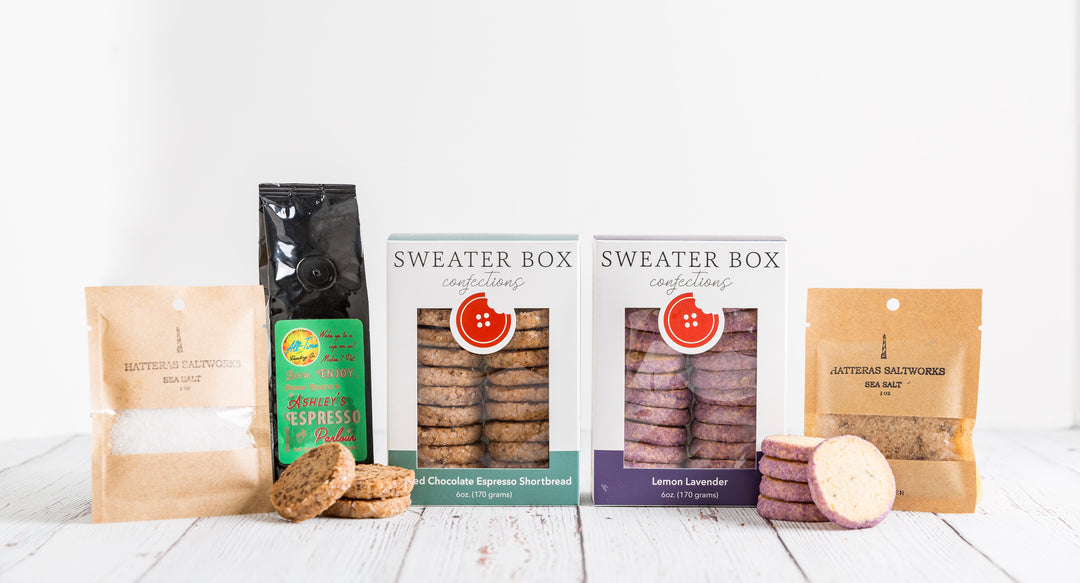 Local Love Gift Package
Handmade in the Outer Banks of North Carolina
What do you get when a baker, sea salt harvester and coffee roaster collide?  We call it our Chocolate Salted Espresso Shortbread and it's our newest flavor!  We love finding ways to incorporate other local flavors into our products.  We were already brewing Ashley's espresso blend for our morning coffee and topping our eggs, and so much more, with Hatteras Saltworks sea salt. 
Sweater Box Confections wanted to share all the products with you and a few texts later the Local Love Gift Package was born!  It includes Salted Chocolate Espresso & Lemon Lavender Cookies from Sweater Box Confections.  Hand harvested, solar evaporated Plain & Lavender Sea Salts from Hatteras Saltworks. And, Jamelle's Espresso Love blend from Ashley's Espresso Parlour.  
Full of flavor and love, that's how we roll on the Outer Banks.